The Track-Worthy Performance of the 2019 Mazda MX-5 Miata

With the 2018 model being named a Car and Driver 10Best,* the 2019 Mazda MX-5 Miata is a legendary roadster with four generations of adrenaline behind it.
2019 Mazda MX-5 Miata Performance Highlights
Tuned Engine (2.0L SKYACTIV®-G Engine)

The Mazda MX-5 Miata includes a revised 2.0L 4-cylinder engine across all trim levels for up to 181 hp and 151 lb-ft of torque.

6-Speed Manual Transmission or Automatic With Paddle Shifters

Choose between quick-shifting manual or the convenience of automatic, which comes with steering wheel paddles for direct control when you need it.

Rigid Chassis

The innovative SKYACTIV®-Chassis can resist torsion during aggressive twists and turns and deliver the vehicle's celebrated nimbleness and stability.

Light Frame

The Mazda MX-5 Miata might be stronger than ever, but it's also lighter. SKYACTIV® TECHNOLOGY has helped keep the car light to maximize its speed and optimize its handling.
Performance-Oriented Features
You'll notice as soon as you slip into the driver's seat that this is a vehicle made for the driving purist. A near-perfect 50/50 balance puts you perfectly in touch with your ride, and you'll experience exceptional comfort and control through every journey thanks in part to:
Front Double wishbone with aluminum control arms and monotube dampers
Rear Multi-link with aluminum bearing support and monotube dampers
As noted by Edmunds, "when you get more aggressive and explore the further reaches of the gas pedal, you notice that you're going considerably faster than you've ever gone in a [Mazda MX-5 Miata]. So smooth and linear is the power delivery that you need to rely on the speedometer to see the difference. It's a marvel, and the engine is a gem."
The steering feels light, yet feedback is never muted, and the small footprint is ideal whether you're slipping into the fast lane between Plainfield and Joliet or swinging into a parking space in Aurora. Even the Mazda MX-5 Miata mpg ratings are impressive:
Up to 26 mpg in the city and 34 mpg on the highway with manual transmission.
Up to 26 mpg in the city and 35 mpg on the highway with automatic transmission.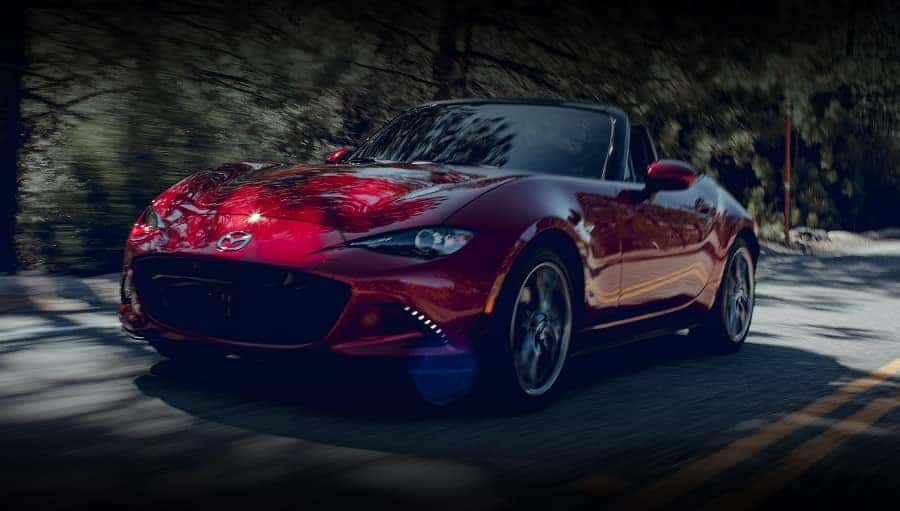 Experience the Legendary Performance of the Mazda MX-5 Miata Today
Whether you want to book a test drive, learn more, or discuss financing options, don't hesitate to contact us today.
Why Buy from Continental Mazda of Naperville?
Drivers visit Continental Mazda of Naperville for more than the latest lineup of Mazda vehicles. We also offer:
110% price guarantee so you can be sure you're getting your money's worth.
Full service and detail center keep your car running in prime condition for years to come.
More About Mazda MX-5 Miata Features
The 2019 Mazda MX-5 Miata builds on the legacy of the 2018 model, which was named Car and Driver 10Best.* It offers adrive befitting it's legendary nameplate — and the 2019 Mazda MX-5 Miata reviews reflect that. Mazda MX-5 Miata Inventory Mazda MX-5 Miata RF Inventory Mazda MX-5 Miata Review Highlights Edmunds "When you get…

With the 2018 model being named a Car and Driver 10Best,* the 2019 Mazda MX-5 Miata is a legendary roadster with four generations of adrenaline behind it. Mazda MX-5 Miata Inventory Mazda MX-5 Miata RF Inventory 2019 Mazda MX-5 Miata Performance Highlights Tuned Engine (2.0L SKYACTIV®-G Engine) The Mazda MX-5 Miata includes a revised 2.0L…
---