Mazda Named Best Car Brand by U.S. News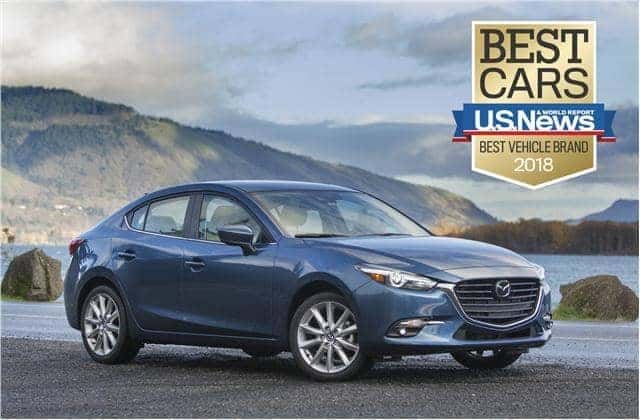 Mazda has always been ranked among the world's best car brands, and they've crept to the very top in recent years. Why else would Mazda have been named the 2018Best Car Brand by U.S. News & World Report? It's an honor few rival manufacturers can hope for, and it's the third year in a row that Mazda has been recognized. In particular, U.S. News & World Report offered hearty praise for Mazda's:
"Engaging driving dynamics"
"Accommodating seats"
"Attractive cabin designs"
"User-friendly technology"
The U.S. News & World Report Best Vehicle Brand Awards
In the words of U.S. News & World Report, their Best Vehicle Brand Awards help drivers "cut through the jumble of new and old makes … to highlight the brands that excel in the areas that matter to you."
Vehicles are divided into four categories:
Cars
Trucks
Luxury Vehicles
For a brand to score well, they need to excel across an objective assessment of quality that covers all models. Everything from automotive press opinion to safety and reliability data is taken into account, and 2018 has seen Mazda scoop the top spot once again.
2018 U.S. News & World Reports Mazda Awards
Though all Mazda models contributed, Jamie Page Deaton, managing editor of U.S. News Best Cars, drew special attention to the Mazda3, Mazda6 and Mazda MX-5 Miata: "All three models have top-notch performance that puts an emphasis on direct, sporty handling, as well as quality interiors that are more upscale than their price tags might suggest."
Mazda3: Calling the Mazda3 "one of the sportiest compact cars on the market," U.S. News & World Report praised efficiency, technology, and "a more premium cabin than many other cars in its price range."
Mazda6: U.S. News notes that the "Mazda6 offers everything the Mazda3 does, just in a slightly larger package." Roomier seating helps out when you're travelling from across the country or just from Joliet to Aurora, making this a top family car.
Mazda MX-5 Miata: While complementing its practical safety technology and efficiency scores, U.S. News & World Report called the Mazda MX-5 Miata "one of the most nimble cars on the market."
Experience the Difference for Yourself at Continental Mazda in Naperville
If you want to find out firsthand why Mazda awards are so numerous, contact us today to arrange a test drive or visit our showroom at 2363 Aurora Ave. in Naperville.
Why Buy at Continental Mazda of Naperville?
Some of the many reasons to shop at Continental Mazda include:
Our online reviews all communicate an important aspect of our dealership: that we always put customer satisfaction first, and we're prepared to go the extra mile on your behalf.
For the past 8 years in a row, Naperville Magazine has named Continental Motors Group "Best Auto Dealer."*
---